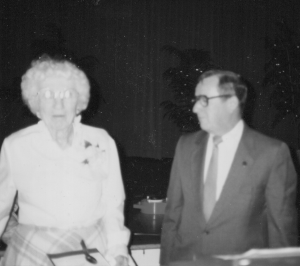 Daphin Marshall & Mayor Larry Kelly
In 1995, the Daytona Beach Branch established the Daphin Marshall AAUW Research and Projects Grant to honor our 1951-52, 1967-69, 1978 President.  Daphin was a Charter Member of the Daytona Beach branch.  She also served as president of the Jacksonville branch.
January 19, 1991 was declared "Daphin Marshall Day" by Daytona Beach Mayor, Larry Kelly.  Daphin was recognized for her service to the community and to AAUW.
As State Membership VP, Daphin helped to establish many AAUW branches throughout Florida, Including Marco Island, Citrus County, West Pasco, Silver Springs Shores, Deltona, New Smyrna Beach and Flagler County.  She also served as State International Relations Area Representative.
Born in Mayfied, KY, Daphin came to Daytona Beach from Jackson, Michigan in 1945.  She received her BA from the University of Kentucky, majoring in education and did graduate work at the University of Florida, Stetson University and Florida State University.  She taught at Seabreeze High School for 21 years before retiring.
Since 2001 the recipients of the grant are:
Career Development Grants
Career Development Grants
Name: Jennifer Bobka
Award Year: 2021-22
Award: Career Development Grant
Institution: University of Florida
Location: Gainesville, Florida
Discipline: Natural resources management
Degree and Specialization: M.S., Ecological restoration
Jennifer Bobka is a graduate student at the University of Florida pursuing a master of science degree in environmental science, with a focus on ecological restoration. Her goal is to balance environmental integrity with human needs and desires. Through science and education, she is committed to generating innovative solutions to poor health and social inequality by promoting regenerative agriculture practices, renewable energies and locally grown/sourced food.
Name: Stacy Cendejas
Award Year: 2019-20
Award: Career Development Grant
Institution: University of Central Florida
Location: Orlando, Florida
Discipline: Speech/language pathology
Degree and Specialization: M.S., Pediatric Speech Language Pathologist
Stacy Cendejas is truly inspired to become a well-rounded therapist who will strive to assist as many people as possible. She has worked tirelessly to meet and represent the American Speech-Language-Hearing Association's criteria for multilingual language competency in therapy practice. Cendejas hopes to one day implement all of the knowledge from her educational and personal experiences and integrate it to make an impact on as many people as possible within the speech and language field.
Recipient: Miami Dade College
Project Director: Marisa Madison
Award Year: 2018-19
Award: Community Action Grant
Location: Homestead, Florida
Term: One-year

Project Name: The Miami Dade College Microbiology Girls Club
The Miami Dade College Microbiology Girls' Club will inspire underrepresented high school girls to pursue undergraduate and graduate degrees and careers in STEM. Participants will attend a two-day workshop where they will identify unknown bacteria by assessing biochemical changes that the bacteria can elicit upon the media, stain and observe the bacteria using light microscopy, and attend a lunch with phenomenal women in STEM as guest speakers.
Name: Natasha Thomas
Award Year: 2016-17
Award: Career Development Grant
Institution: University of Florida
Location: Gainesville, Florida
Discipline: Education
Degree and Specialization: M.A., Reading: language and literacy
Name: Stephanie Brown
Award Year: 2014-15
Award: Career Development Grant
Institution: Florida State University
Location: Tallahassee, Florida
Discipline: Health and medical sciences
Degree and Specialization: M.S., Speech/language pathology
Name: Jennifer Tisthammer
Award Year: 2013-14
Award: Career Development Grant
Institution: Florida International University
Location: Miami, Florida
Discipline: Earth, atmospheric, and marine sciences
Degree and Specialization: M.S., Environmental Science
Name: Chelsea Engberg
Award Year: 2011-12
Award: Career Development Grant
Institution: Embry-Riddle Aeronautical University
Location: Santa Cruz, California
Discipline: Engineering – aeronautical and astronomical
Degree and Specialization: M.A.S., Aeronautical science
Name: Dolores A. Hucks
Award Year: 2006-07
Award: Career Development Grant
Institution: University of South Carolina, Columbia
Location: Lexington, South Carolina
Discipline: Social work
Degree and Specialization: M.S.W., Social work
Name:  A. Maria Britain
Award Year: 2006-07
Award: Career Development Grant
Recipient: Institute for Women's Leadership at Nichols College
Project Director: Jean Beaupre
Award Year: 2015-16
Award: Community Action Grant
Location: Dudley, Massachusetts
Term: Two-year
Recipient: IAMAS, Inc.
Project Director: Shenell Collier
Award Year: 2012-13
Award: Community Action Grant
Location: Valdosta, Georgia
Term: Two-year
Recipient: Agnes Scott College
Project Director: Lerita Coleman Brown
Award Year: 2010-11
Award: Community Action Grant
Location: Decatur, Georgia
Term: One-year grant
Recipient: Georgia Women of Achievement
Project Director: Shelli Siebert
Award Year: 2009-10
Award: Community Action Grant
Location: Atlanta, Georgia
Term: Two-Year
Recipient: Footsteps to the Future, Inc
Project Director: Judi Woods
Award Year: 2008-09
Award: Community Action Grant
Location: Ft Myers, Florida
Term: Two-Year
Recipient: AAUW Atlanta (GA) Branch
Project Director: Susan M. Pavlin
Award Year: 2007-08
Award: Community Action Grant
Location: Atlanta, Georgia
Term: Two-year grant
Recipient: AAUW Bryson City (NC) Branch
Project Directors: Rachel Lackey and Susan L. Bogart
Award Year: 2005-06
Award: Community Action Grant
Location: Bryson City, North Carolina
Term: One-year grant
Recipient: Gudrun A. Hutchins and Cindy-Jean Brownell
Award Year: 2004-05
Award: Community Action Grant
Location: North Bennington, Vermont
Term: Two-year grant