Great Decisions to meet by Zoom
Monday, April 27
3:30 pm

Climate change has become one of the
defining issues of our time.
Climate change has become one of the defining issues of our time. As much of the world bands together to come up with a plan, the U.S. remains the notable holdout. What is the rest of the world doing to combat climate change? What impact will the effects of climate change have on global geopolitics?
Please email paross@aol.com to receive the link
 A Woman of No Importance: The Untold Story of the American Spy Who Helped Win WW II" 
By Sonia Purnell. 
In 1942, the Gestapo sent out an urgent transmission; "She is the most dangerous of all Allied spies.  We must find and destroy her."  The target in their sights was Virginia Hall, a Baltimore socialite who talked her way into Special Operations Executive.  She became the first Allied woman deployed behind enemy lines and –despite her prosthetic leg– helped to light the flame of the French Resistance, revolutionizing secret warfare as we know it
Please email paross@aol.com to get the link
Due to health and safety concerns surrounding the Coronavirus (COVID-19),  AAUW Daytona Beach in-person events  have been postponed or cancelled:
Stay safe!
2019 Scholarship Recipient, Shannon O'Regan with Scholarship Chair Ellen O'Shaughnessy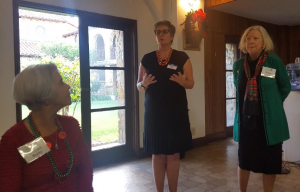 The American Association of University Women (AAUW) empowers women and girls through advocacy, education, and research. Our nonpartisan, nonprofit organization has more than 150,000 members and supporters across the United States, as well as 1,000 local branches and 700 college and university partners. Since AAUW's founding in 1881, our members have examined and taken positions on the fundamental issues of the day — educational, social, economic, and political.
Located at one of Florida's most popular east coast vacation destinations, the Daytona Beach Branch draws members from throughout Volusia County and the Daytona metropolitan area.  We welcome participation in our activities by  "Snowbirds" visiting the area from other branches.
*****************************
AAUW's Mission:
AAUW advances gender equity for women and girls through research, education and advocacy.
Vision:

Equity for all.
Values: Non-partisan, Factbased, Integrity, Inclusion and Intersectionality.
*****************************
 The Daytona Beach branch of AAUW –
Supports scholarships for Women in Transition and STEM at Daytona State College
Sponsors rising 8th Grade girls to attend Tech Trek Florida
Provides opportunities for college women to attend the National Conference of College Student Leaders.
Started the first Children's Museum in Daytona Beach in 1949
Inventoried and archived the contents of the Mary McLeod Bethune Home Museum so it could achieve national museum status
Encouraged the building of City Island Library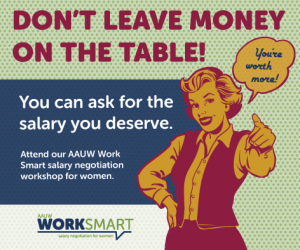 Join the 10 million women across the U.S. being trained in salary negotiation. Learn how to improve your financial future and secure the pay you deserve.
Sign up for a free online salary negotiation workshop!