AAUW Daytona Beach
Betune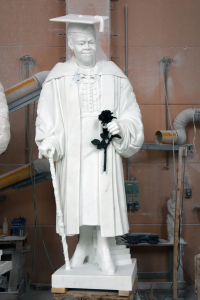 November 4
1 pm
Bethune Statue
We have an opportunity to learn more about the Mary McLeod Bethune statue which will be placed as Florida's representative in Statuary Hall in Washington DC. The statue is in Daytona Beach and we have a tentative booking for a 45 minute guided tour on November 4 at 1 pm. For those who wish, we may arrange for lunch at a restaurant beforehand.
In order to keep the booking, we must send in a list of those who will attend.
---
Wednesday, November 10th 2021
6:30 PM – ZOOM
Preserving African American Places: Recognition and Restitution
Lawana Holland-Moore,Program Officer, African American Cultural Heritage Action Association
(Co-Hosted by AAUW Stetson)
Thursday, December 2, 11:00 am
Challenges for Generation X
Mary Gatta PhD
Generation X women (those born between 1965 and 1980) are in the middle of their careers. They are navigating work, family and aging. This presentation will share the economic state of Generation X women, the way gender roles are (and are not) changing and the key challenges this group is facing as they approach retirement age.
(In person and by zoom)
---
Great Decisions
Monday, October 24
3:30 pm

The Two Koreas
What does the future hold for the U.S. relationship with the ROK?
The Korean Peninsula is facing a defining era. Attempts by South Korean President Moon Jae-in and U.S. President Donald Trump to repair the rift between North and South have lost any momentum as Pyongyang continues to test long-range missiles for its nuclear weapons program. As the rift between the U.S. and China grows further, South Korea may end up in the middle of the two superpowers. What does the future hold for the U.S. relationship with the ROK?
Photo by PYEONGYANG PRESS CORPS/POOL/GETTY IMAGES
---
November 8—"Winter Sisters,"by Robin Oliveira.  New York 1879: An epic blizzard descends on Albany devastating the city. When the snow finally settles, two newly orphaned girls are missing. Dr. Mary Sutter, a former Civil War surgeon, searches for the two sisters. When what happened to them is finally revealed, Dr. Sutter must fight the most powerful of Albany's citizens to right unimaginable wrongs. Ellen O'Shaughnessy will lead the discussion.
Please
contact us 
to get the discussion group  link
---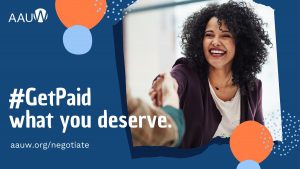 Join the 10 million women across the U.S. being trained in salary negotiation. Learn how to improve your financial future and secure the pay you deserve.
Sign up for a free online salary negotiation workshop!
---
 The Daytona Beach branch of AAUW –
Supports scholarships for Women in Transition and STEM at Daytona State College
Sponsors rising 8th Grade girls to attend Tech Trek Florida
Provides opportunities for college women to attend the National Conference of College Student Leaders.
Started the first Children's Museum in Daytona Beach in 1949
Inventoried and archived the contents of the Mary McLeod Bethune Home Museum so it could achieve national museum status
Encouraged the building of City Island Library
---
AAUW advances gender equity for women and girls through
research, education and advocacy.
Follow us: