Book Group
Monday, December 11
City Island Public Library
10:30 am
December 11: "Hang the Moon" by Jennette Walls.  A riveting new novel about the Roaring '20s.  Country life is roller-coastering along, but it becomes more intriguing once you know its rural Virginian petty dynasties correspond to the Tudors at the height of British rule.
Contact us to get the zoom link
AAUW Florida Public Policy Issues Forums
Wouldn't you like more in-depth information on the important issues facing Florida from a nonpartisan but equity-focused viewpoint? Would you like to be able to ask your own questions of experts regarding these issues? Then be sure to attend as many AAUW Florida Issue Forums this year as you can. All sessions will start at 6:00 PM and last for an hour. The series is open to AAUW members and guests.
TITLE
DATE
SPEAKERS
RSVP
Reproductive Rights

 

Sept. 14, 2023
Moné Holder, Florida Rising
Click here to register for this session
Title IX and Dress Codes in Schools

 

Oct. 5, 2023
Nancy Tray, Change the Dress Code Movement, St Johns County
Click here to register for this session
Gender Studies and DEI Initiatives at Colleges

 

Nov. 2 2023
Dr. Elizabeth Brown, Past President of the United Faculty of Florida, University of North Florida
Click here to register for this session
Florida 2024 Legislative Preview

 

Nov.16, 2023
Dr. Pat DeWitt, AAUW Co-Public Policy Director and Public Policy Committee Members
Click here to register for this session
Public Education and Book Bans
Jan. 11, 2024
Dr. Marvin Dunn, Professor Emeritus at Florida International University and Miami Center for Racial Justice
Click here to register for this session

Gender Pay Gap and Economic Security
March 7, 2024
Dr. Mary Gatta, AAUW FL Co- Public Policy Director and Director of Research and Public Policy, National Association of Colleges and Employers
Click here to register for this session
Voting Rights
April 18, 2024
Debbie Chandler, Co-President, League of Women's Voters. Florida
Click here to register for this session
You will need to RSVP for each session individually.  Once you RSVP you will receive a Zoom link for the session.  If you have any questions, contact Mary Gatta, Co-Public Policy Director, AAUW Florida at gatta.mary@gmail.com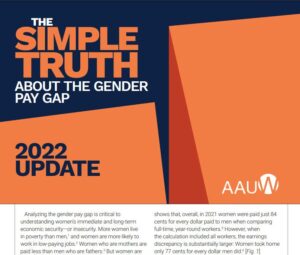 While the gender pay gap has traditionally been calculated with data from full-time workers, this year it used the earnings ratio of all workers—including seasonal and part-time—to capture a more accurate picture.

As part of our mission to empower women and advance gender equity, AAUW is proud to offer our FREE salary negotiation course, Work Smart Online – available to anyone at any time.
Get started now, and go get your raise! —> https://bit.ly/3UKAgqQ

---
 The Daytona Beach branch of AAUW –
Supports scholarships for Women in Transition and STEM at Daytona State College
Sponsors rising 8th Grade girls to attend Tech Trek Florida
Provides opportunities for college women to attend the National Conference of College Student Leaders.
Started the first Children's Museum in Daytona Beach in 1949
Inventoried and archived the contents of the Mary McLeod Bethune Home Museum so it could achieve national museum status
Encouraged the building of City Island Library
---
AAUW advances gender equity for women and girls through
research, education and advocacy.
Follow us: