AAUW Florida Lobby Days: A Series of Lunch Presentations
January 18-21
12 noon-1pm
January 18: Update on Bills
January 19: Panel on Pay Equity
January 20: Title IX
January 21: Student Debt
https://www.facebook.com/watch/?v=603586654174807
---
Great Decisions
The Fourth Monday of the Month
3:30 pm
---
Book Group
Monday, November 8
10:30 am
By Zoom

February 14— "Hamnet," by Maggie O'Farrell.   Drawing on O'Farrell's long-term fascination with the little-know story behind Shakespeare's most enigmatic play Hamlet.  England 1580: The Black Death creeps across the land, an ever-present threat, infecting the healthy, the sick and the old and the young alike, but life goes on.  A luminous portrait of a marriage, a shattering evocation of a family ravaged by the death of a son, whose life has been all but forgotten and whose name was given to one of the most celebrated plays of all time. Hamnet is mesmerizing, seductive, impossible to put down.
Please
contact us 
to get the discussion group  link
---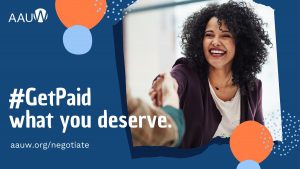 Join the 10 million women across the U.S. being trained in salary negotiation. Learn how to improve your financial future and secure the pay you deserve.
Sign up for a free online salary negotiation workshop!

---
 The Daytona Beach branch of AAUW –
Supports scholarships for Women in Transition and STEM at Daytona State College
Sponsors rising 8th Grade girls to attend Tech Trek Florida
Provides opportunities for college women to attend the National Conference of College Student Leaders.
Started the first Children's Museum in Daytona Beach in 1949
Inventoried and archived the contents of the Mary McLeod Bethune Home Museum so it could achieve national museum status
Encouraged the building of City Island Library
---
AAUW advances gender equity for women and girls through
research, education and advocacy.
Follow us: