AAUW Daytona Gathering Social
Saturday, 
September 21
11 am 
Island Crowne Condo
Bring a salad or dessert to share
$10 donation for Tech Trek
Guests Welcome
*****************************
NCCWSL and Tech Trek attendees with 2019 President, Laura Adolfie.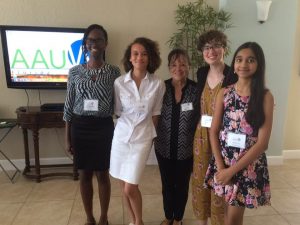 The American Association of University Women (AAUW) empowers women and girls through advocacy, education, and research. Our nonpartisan, nonprofit organization has more than 150,000 members and supporters across the United States, as well as 1,000 local branches and 700 college and university partners. Since AAUW's founding in 1881, our members have examined and taken positions on the fundamental issues of the day — educational, social, economic, and political.
Located at one of Florida's most popular east coast vacation destinations, the Daytona Beach Branch draws members from throughout Volusia County and the Daytona metropolitan area.  We welcome participation in our activities by  "Snowbirds" visiting the area from other branches.
*****************************
AAUW's Mission:
AAUW advances gender equity for women and girls through research, education and advocacy.
Vision:

Equity for all.
Values: Non-partisan, Factbased, Integrity, Inclusion and Intersectionality.
*****************************
 The Daytona Beach branch of AAUW –
Supports scholarships for Women in Transition and STEM at Daytona State College
Sponsors rising 8th Grade girls to attend Tech Trek Florida
Provides opportunities for college women to attend the National Conference of College Student Leaders.
Started the first Children's Museum in Daytona Beach in 1949
Inventoried and archived the contents of the Mary McLeod Bethune Home Museum so it could achieve national museum status
Encouraged the building of City Island Library