The Daytona Beach Branch of AAUW was inaugurated in October 1945 with forty members and Mrs. E. D. (Elizabeth) Cordery as president. Projects, scholarships and fundraisers to encourage women's education have been an important focus of the branch. Daytona Beach AAUW has played a major role in many improvements to the community of Daytona Beach.
AAUW's Service to Daytona Beach
The Children's Museum
In 1949-50 the Education Study Group, mostly young mothers, headed up by Jean Smith, Esther Bates and Thelma Bentley, opened  the "Halifax Children's Museum " in abandoned Army barracks that stood on what is now the eastern edge of Daytona State College.  The tiny museum on the corner of White Street and Second Avenue was volunteer run.  It featured an extensive collection of seashells, fossils, a recreated Native American midden and a replica of a cave with early cave paintings and arrowheads.  This pilot project was financed, in part, by book fairs and culminated in the creation of the Museum of Arts and Sciences in 1955. In 1995, MOAS Director Gary Libby, presented the branch with a proclamation in recognition of its early supportive efforts to establish the museum.
City Island Library
Branch members worked during the summer of 1976 to publicize the need for improved library facilities using a Branch Public Service Project grant of $250 from AAUW to purchase pamphlets that were distributed during the Volusia County Bicentennial celebration. A tent housed a display of "Books That Changed Our History", members dressed in colonial costumes and fact sheets were distributed showing the need for more library space. These efforts and those of other community organizations led to the building of the City Island Library.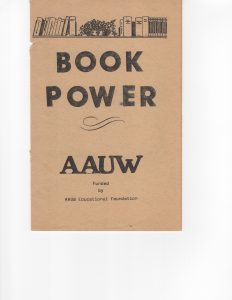 Suitcase Museum Project
In 1990, Community Chair, Evelyn Lynn, initiated the "Suitcase Museum". She and Jeanette Stanford chaired the project over several years. Suitcases, about the size of a salesman's sample case, contained items such as crafts, articles of clothing, dolls, figurines, games, utensils, pamphlets and travel maps. There were suitcases for many foreign countries as well as Dolls of the World, African Music, American West, Native American Tribes, Florida Tribes, Seminole Tribes and Florida History. Branch members maintained the various suitcase museums, which were stored and transported by the Media Center at the Educational Development Center. They were sent to various Volusia County schools to augment social studies classes and promote multicultural understanding.
Bethune Home Museum
In 1996, the AAUW Daytona Beach National Agenda Special Interest Group received a Community Grant from AAUW to catalogue and archive the contents of the Mary McLeod Bethune Home Museum. The goal was to establish the Mary McLeod Bethune House as a recognized National Museum and to bring to light information about this exceptional African-American woman who had contributed so much to our history. Dr. Betty Seidmon and Betty Stern chaired the project. They sought advice from John Daniels, from the Pensacola Florida Historical Project, and from Wanda Bell, a museum curator and member of the branch, about the methods necessary to accomplish cataloguing the contents. Categories were assigned a number and each article in that category given its own number. The job of placing the number on each piece and recording a description, location and other information on a record sheet was enormous.
As soon as each piece was marked, branch member and photographer Pat Race took over a thousand pictures and they were placed in two volumes for the further identification of articles. Triplicate sets were made, one set to be kept in a vault for complete safekeeping, one for the college library and the third set to be kept at the Foundation Home for visitors and tours to browse.
Branch librarian, Harriet Nace performed all the necessary work on books in the home. She catalogued each book according to library standards and criteria under author, title and specific headings. Various volumes are of special interest due to inscriptions from world leaders and authors.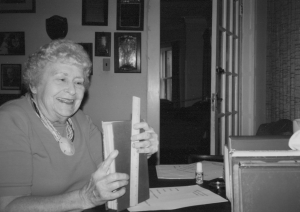 Other members who worked on this project included Susan Jano, Audrey Montgomery, Eleanor Montgomery, Jan Kingsley, Barbara Wolfe, Charlotte Rivell, Anne DuPont, Florence Richardson, Winifred Schlachter and Margaret Symonette. They had the capable assistance of BCC student, Sharon Smith.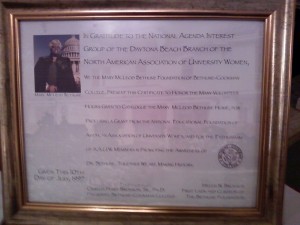 The culmination of the project was celebrated on July 10, 1997, the 122nd anniversary of Mary McLeod Bethune's birth. A large tent was placed next to the Bethune Foundation Home where the community and AAUW members enjoyed iced tea, sweets, and touring the former home of this very special woman in history.
Display of the Domestic Abuse Center Hotline in the Public Arena
In 1997 the branch received an Educational Foundation Community Action Grant to provide advertising of the Domestic Abuse Council hotline number on the outside of six city buses and advertising cards in all buses. Judith Southard was the chair. Members continued to support the Abuse Center with donations for several years.
Sister-to-Sister Summits
From 1998-2001, AAUW sponsored "Sister-to-Sister Summits" for Middle School Girls. Synthia Fletcher and Susan Jano chaired the project, which gave middle school girls a chance to speak out and be heard with the aid of trained facilitators on the issues that affect their daily lives. The Sister-to-Sister Summit was designed to strengthen girls' voices while identifying action steps to promote better opportunities for all students.
Rose Bay Environmental Project
In 1998-99, biology teacher, Louise Chapman and math teacher, Cynthia Cheasley, received an AAUW Florida Teacher Fellowship to study Rose Bay with Mainland High School students who collected data on water quality, plant growth, and weather.
Through the cooperative efforts of the Volusia County Parks and Recreation Department, the Volusia County Department of Environmental Management, and the St. Johns River Water Management District, in 2000, Mainland High School was given 33 acres of the Spruce Creek Tract to manage and develop as a park. This ecologically significant tract of land is adjacent to Rose Bay, a freshwater site surrounded by estuarine marshes, saltwater marshes, and brackish bays
The Archeology Lab Project
In 2011-14, AAUW Daytona Beach partnered with the Museum of Arts & Sciences and the Burns Science and Technology Charter School in Oak Hill. A "mock" dig site was created on the school campus, teaching all students about the science of archaeology, integrating this hands-on-activity into classroom academics. Several branch members volunteered to work with the project, which was funded through an AAUW Research and Projects Grant.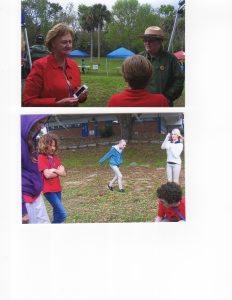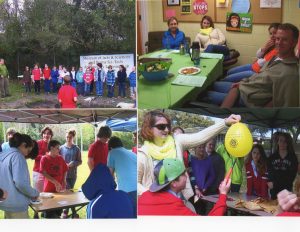 Throughout the years the branch provided ongoing support to several community organizations, which address issues that affect women and girls, including PACE and the Domestic Abuse Center. The branch continues to work with the League of Women Votes on voter education.
Daytona Beach Community College
AAUW Daytona, along with 109 other civic groups endorsed the establishment of a Community College in Daytona Beach. The Daytona Beach Community College was built in an area where the WACS Barracks had been located.
Scholarships and Book Fund
AAUW Daytona endowed the Daphin Marshall AAUW Research and Projects Grant to honor our past-president, and charter member who remained involved at both the branch and state levels for many years. AAUW Research and Project Grants are given by AAUW nationally and fund community projects and career development grants.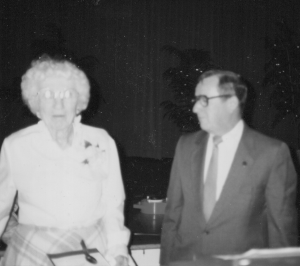 AAUW Daytona Beach has provided approximately sixty scholarships to local women who attended DSC or UCF. The branch currently provides scholarships to enable a "Woman In Transition" to attend DSC. Starting in 2014, the Daytona Beach,  Flagler and New Smyrna AAUW branches also fund the AAUW STEM Scholar award for a woman at DSC studying math, science, engineering or technology. In 2011, branch co-sponsored a Start Smart Negotiation Workshop at Daytona State College. For many years the branch also contributed to the Bethune–Cookman Book Fund.
AAUW Daytona Beach and the NOW and Students Against Sexual Violence groups of Stetson University received an LAF Campus Action Grant to host Gender Equity Week in Fall, 2016.
Current Scholarship Programs
A student at Daytona State iCollege s selected annually to receive our Woman In Transition Scholarship and another receives the AAUW STEM Scholarship, awarded jointly with the Flagler and New Smyrna AAUW branches.
The branch sponsors local students from AAUW College/University Partner Schools to attend the National Conference of College Women Student Leaders (NCCWSL).
AAUW FL sponsors Tech Trek, a weeklong STEM camp for middle school girls. AAUW Daytona works with the Volusia County Schools and other local schools to identify girls who would benefit from this extraordinary experience.
Several branch members have served on the AAUW Florida Board of Directors.  Patricia Ross served as state President, 2018-20.